Preparation time

20 mins

Cooking time

60 mins

Difficulty

Serves

8 people
12 quart

2 tbsp

6 large

3 tbsp

1 cup

1 cup

1 cup

1 cup

1 cup

1 cup

1 cup

1 cup

1 cup

1 cup

2 cup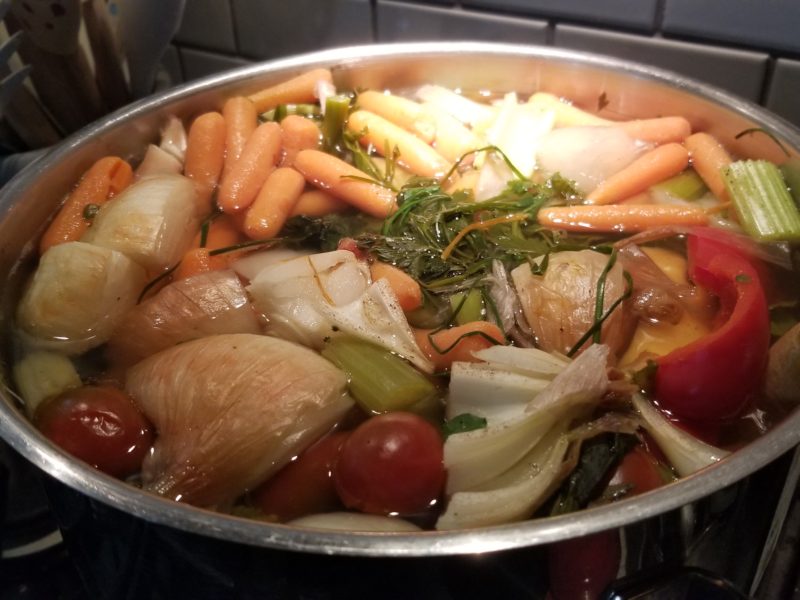 A good hearty vegetable stock is a great way to add depth to any soup or sauce. Since most stocks that you get at grocery stores or markets are high in sodium, making your own not only elevates the flavor in your soups and sauces, but also reduces your sodium intake significantly. Like most stocks, our kidney supporting vegetable stock will start with your standard mire poix: onions, carrots and celery. To take this kidney friendly vegetable stock to the next level we will be adding some secret ingredients that may need to be purchased from some specialty store.  If you haven't looked into the stinging nettle plant and it's affects on the renal system, I suggest having a look! Our kidney supporting broth will contain stinging nettle seeds, stinging nettle leaves, dandelion roots, dandelion leaves, chaga and parsley to help support the kidneys.
Throughout the week I like to keep a separate container for vegetable scraps to be used in stocks. The ends of onions, carrots and celery that normally get tossed into the trash or compost work great in stocks and should be rinsed off and set aside for later use.
Add all your ingredients to a big stock pot. Some people like to use a sachet for the herbs and spices, but if you do not have any cheese cloth on hand, you can just toss it all in there and strain it later.

Add water to the pot  and bring to a boil. Lower heat to a gentle boil and let it go for 30-45 minutes.

Once your stock has been on for 45-60 minutes, turn off the stove and let cool. Once the stock is completely cooled down, strain into a separate vessel for later use. Discard veggies.